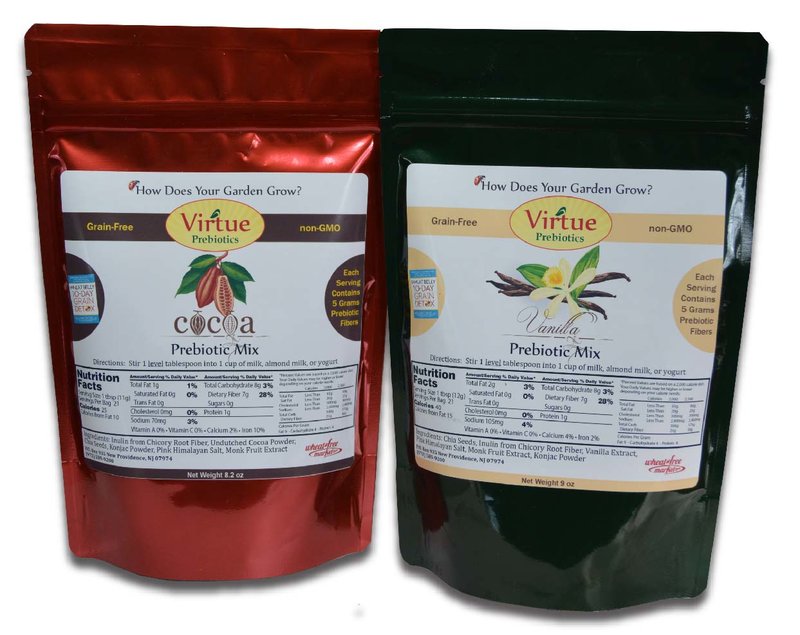 ---
SHOP NOW
Are you looking for an easy way to add prebiotic fibers to your diet? If so, then Virtue Prebiotic Mixes are for you. Just add one level tablespoon to your milk, almond milk, or yogurt, and you get 5 full grams of prebiotic fiber from inulin sourced from chicory root.

The mixes come in two flavors: Cocoa and Vanilla

The Wheat Belly program recommends first supplementing with a high-potency probiotic (e.g., 30-50 billion CFUs per day) for 3-5 days prior to supplementing with prebiotic fiber sources. Because prebiotic fibers can sometimes provoke gas and bloating, we start with only one serving per day for the first week, build up to one serving twice per day after that. The maximum daily intake should never exceed two servings twice per day.

Prebiotic fibers, such as those contained in the Virtue mixes, can play an important role in supporting the healthy bowel flora that, in turn, may yield many health benefits.
The Difference Between Probiotics and Prebiotics

A prebiotic is a type of fiber that supports the growth of "good bacteria" in the digestive system. In a food ingredient it is typically listed as inulin, or perhaps chicory root fiber. It can help promote good digestion which is beneficial for immunity, absorption of minerals, regularity and overall bowel health.

Probiotics are live bacteria found in yogurt and many dairy products as well as in the form of supplement pills. They are considered "good bacteria" and promote overall bowel health and support immune function. Many people beginning the Wheat Belly lifestyle will take a course of probiotics for 30-days or so to help restore a healthy balance of gut bacteria.

It is helpful to think of your gut microbiome in your intestinal tract as a "garden." You "seed" the garden with probiotics, and you "fertilize" with prebiotics.