Our Story
Wheat-Free Market Foods LLC launched in 2013 to offer both grain-free and low-carb products to support people following nutritional lifestyles contrary to the status quo. Our founder, Gary Miller, experienced tremendous and unexpected health and weight-loss results by following the principles advocated in Wheat Belly, a book written by cardiologist William Davis, MD. In our quest to create convenient products for this lifestyle, we tested products using a variety of different natural sweetener blends. We began using a  sweetener blend that included a high-concentration of the natural monk fruit sweetener in our grain-free cookies and cereals.  We found that we really loved its taste and performance in baking over every other natural sweetener or sweetener mix available. Most users reported that, unlike products containing stevia, there was little to no bitter aftertaste with this blend. We liked it so much that we decided to start offering it to customers as a sweetener mix for home use. It has  really taken off!
Some two years later, we realized it was confusing that one of our bestselling products had no name, so we named it Virtue Sweetener.
Great Taste, Great Value

We offer value!  Virtue hits the right balance in taste and performance with its proprietary blend of monk fruit extract and erythritol.  Virtue is the most economical sweetener of its kind on the market—and not just by a little, but by a large margin.  You need just 25% as much as you would other sweeteners that are blended to be equivalent to sugar in sweetness and are therefore used 1:1 in place of sugar. This means that our 10-ounce bag will last as long as 2.5 lbs of other leading sweeteners—that's a lot of sweetening power packed into one bag!
The following photo compares the cost and amount of Virtue you'd use compared to sugar and other sweeteners and sweetener blends: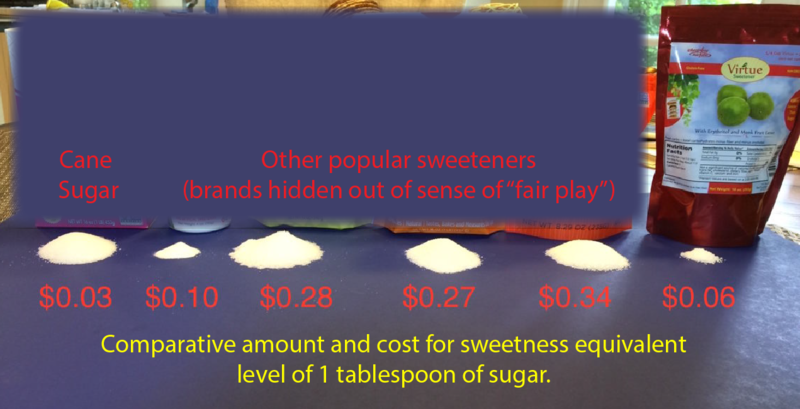 The original picture and cost comparison comes from Dr. William Davis, cardiologist and bestselling author of the Wheat Belly book series. He purchased the competing sweeteners and sugar at his local Woodman's grocery store in June, 2016 and published the results on his blog. Virtue offers the best value for those of us avoiding sugar and looking for the most economical source of natural sweetener—Virtue saves you money while helping you succeed in your sugar-free lifestyle!